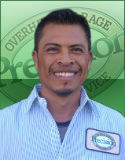 Tech ID#: 48
Reviews: 1
Average: 5.00 star
Moises Lopez-Reyes
Installer
Moises Lopez-Reyes
has received 1 Reseña, reviews.averaging:





Moises Lopez-Reyes's Bio:
Hi everyone, I am Moises, I am Hispanic. I have been working for Precision for over 5 years. I like hiking, fishing, biking. I love to spend time with my kids. I love what I do, especially when I make the clients happy.





Date:
11/04/2016
Install Garage Doors
Moraga, CA
?
At the completion of every job all Precision customers that provide contact information are sent a request to review our business.
Service Provided:
Install Garage Doors
Product:
Garage Doors